A healthy mind resides in a healthy body. Understanding the importance of an agile body and its multiple health benefits, I.T.S Engineering College offers innumerable sports opportunities to every student by organizing various inter college and zonal sports events. The College boasts of different sports facilities in the campus itself like badminton court, basketball court and table tennis court along with grounds for outdoor sports like football, volleyball, kabaddi, kho – kho and standard track for athletics. There are a wide number of activities and programs available to students both on campus and in the community. Each of these extracurricular activities has their own short and long-term benefits.
Sheel Vardhan (B.Tech, Final year) won Gold Medal (2018-19) and Silver Medal (2019-20) at Zonal Level AKTU Sports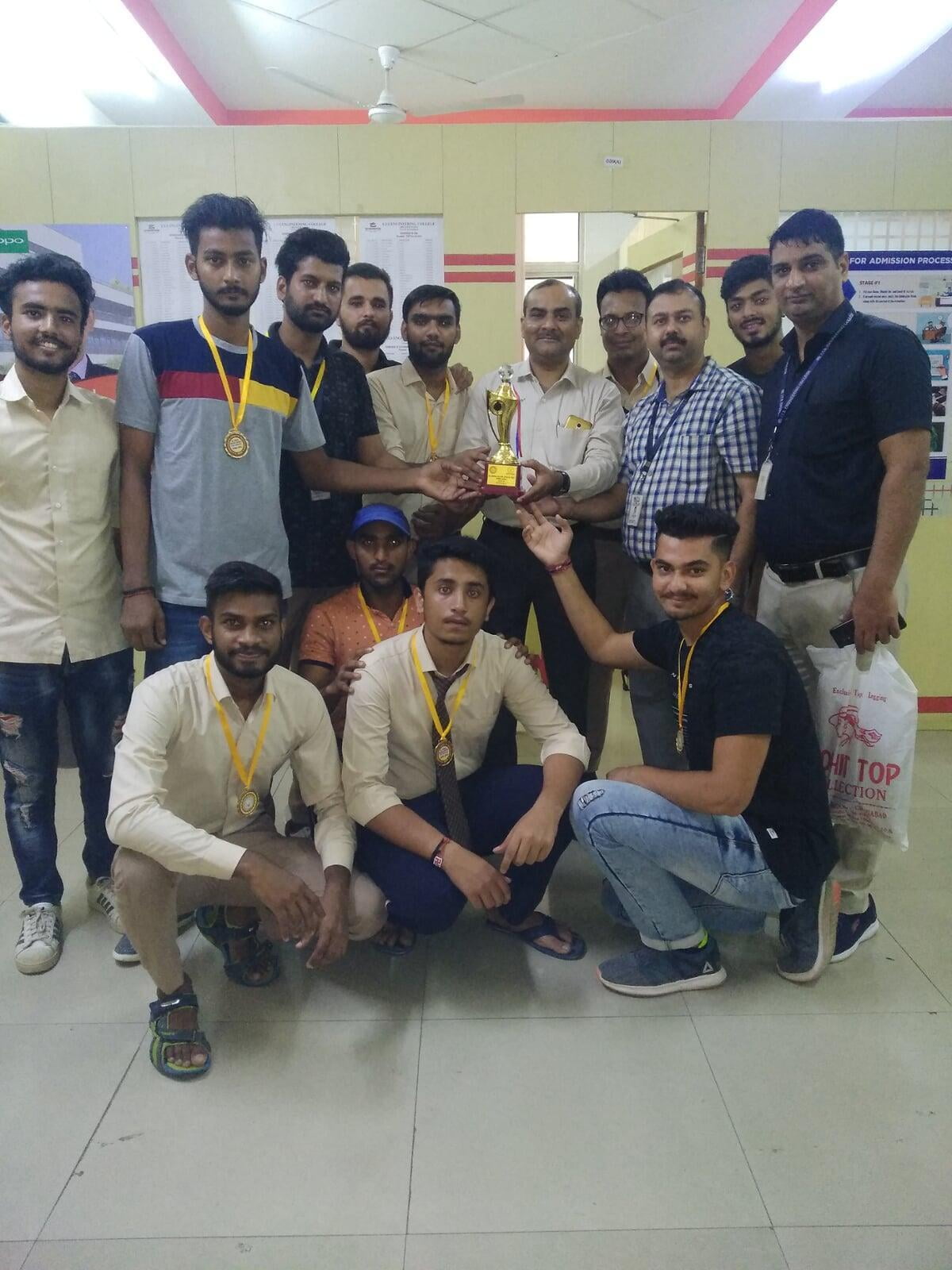 For the first time in the history of Dr APJ Abdul Kalam Technical University, Lucknow, Uttar Pradesh a Zonal Level Kabaddi sports competition was organized in which ITS Engineering College won the Gold Medal.

The College also won Silver Medal in Chess and Shotput.

Moreover, Our Girl student, Sakshi Gupta grabbed a Bronze Medal in 200m race.

Kabaddi Boys = 🏆GOLD
Chess Boys = SILVER
200m Race Girls = BRONZE
ShotPut Boys = SILVER
Proud Moment for ITS Parivar
Football and Futsal Team of ITS
SOME GLIMPSES OF AKTU ZONAL FEST @ ITS ENGINEERING COLLEGE
Some Achievements By Our Students
Volleyball Team bagged Silver Trophy in AKTU Zonal Sports Fest 2018-19



Nikunj Rakesh, Vikas Bhati, Aman Singh & Rajiv Ranjan won 2

nd

prize – 4x100m relay, AKTU Zonal.
Nikunj Rakesh, Rajesh Thakur, Aquib Javed & Ashwin Tomar bagged 2

nd

prize – 4x400m relay, AKTU Zonal.
Zonal Fest Achievements 2019-2020
Sports Achievements 2018-2019
ITS Engineering College bagged 10 Medals in Dr. AKTU Zonal Sports Fest

2 Gold Medals in Chess and Shot Put

6 Silver and 2 Bronze Medals in Athletics, Volleyball, Kho-Kho etc.

Volleyball Team stood 2

nd

in MOSIAC 2018
Cricket Team bagged 2

nd

Prize in RANN, KIET, 2018